BI.ZONE
Secure SD-WAN
Secure network transformation platform
Product overview
When business expands, IT and cybersecurity departments are faced with the challenge of scaling up the network: this must be done quickly while ensuring reliable and secure data transmission at the same time.

The solution to these problems became the foundation of BI.ZONE Secure SD-WAN. The product allows you to reduce the cost of providing a stable connection to distributed branches, minimize cybersecurity risks, and optimize network management and scaling.
2.5x
lower network deployment and support costs
15 minutes
to connect a new branch
1 technology
replaces 10 traditional network devices
Network stability
Compatible with all types of communication channels, which are backed up to provide a stable connection to even the most inaccessible areas of the network
Easy network management
New branches can be connected in one click due to the use of Zero Touch Provisioning technology and a single device instead of multiple devices
Secure traffic and network infrastructure
The built-in firewall, automatic VPN configuration and encryption ensures multilayer protection of your traffic and network infrastructure
How it works
Management Plane
Unified management interface
Allows you to centrally manage and monitor the status of all system components.
Administrators from different organizations can work simultaneously with control plane orchestrators within their own organizations and the privileges granted.
Control Plane
SD-WAN controller
Controls BI.ZONE CyberEdge equipment and routing in the SD-WAN network
Security orchestrator
Manages security VNFs functions on BI.ZONE CyberEdge hardware
Data center gateway
Aggregates control tunnels of BI.ZONE CyberEdge equipment
Data Plane
Customer-premise equipment
The BI.ZONE CyberEdge network server handles the traffic directly in the infrastructure
Service Plane
Virtual network functions, VNFs
These are containers running on BI.ZONE CyberEdge hardware in a specially adapted network environment
The entire network can be managed from a console, which can be accessed via any modern browser or an API.
Here, the administrator can configure the network and security policies, analyze the current status of the network, update settings or recover equipment in case of problems.
BI.ZONE CyberEdge network server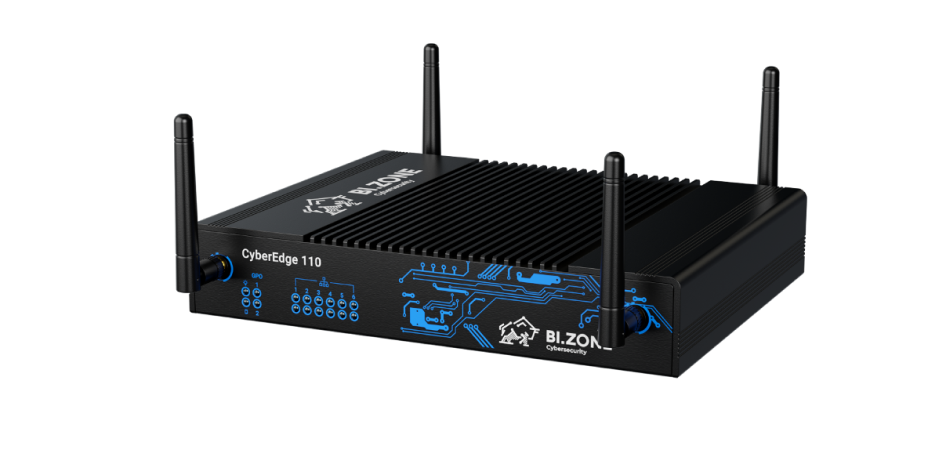 LTE enabled router
Switch
Firewall
Remote access server
VPN gateway
Wi-Fi
Technical characteristics
Form factor

Desktop version

Optional rack mounting (1U)

Processor

Based on x86 architecture

RAM

8 GB DDR3

Memory

2.5" SSD 60 GB

Network ports

6 ports

10/100/1000 Мбит/с

Mbps

Optionally, first 2 ports can be optical

Expansion slot 1

Optionally LTE module

Expansion slot 2

Optionally Wi-Fi 802.11ac module

Power supply

External power adapter 220 V

Safe operating temperature

From 0 °C to 45 °C

Dimensions (H × W × D)

44 × 240 × 192.2 mm
Traffic transmission
Data transmission between sites takes place via the WireGuard protocol. BI.ZONE Secure SD-WAN uses modern encryption algorithms to protect transmitted data
Ask our experts how to protect your network infrastructure and ensure stable connectivity
Whatever deployment option you choose, the traffic will be transmitted directly between your branches through BI.ZONE CyberEdge network servers, (i.e., it will bypass the centralized management system)
Cloud
The centralized management system is hosted in the BI.ZONE private cloud. BI.ZONE CyberEdge network server is delivered to your distributed branches and handles all traffic locally
On-premise
The centralized management system is hosted in your data center. BI.ZONE CyberEdge network server is delivered to your distributed branches and handles all traffic locally
MSP
The centralized management system is hosted in the BI.ZONE partner cloud. BI.ZONE CyberEdge network server is delivered to your distributed branches and handles all traffic locally